Unlocking Diversity: Golf's Opportunity to Access Untapped Communities
Beyond the traditional audiences are significant groups of people keen to play golf but lacking the opportunity. Can the sport capitalise?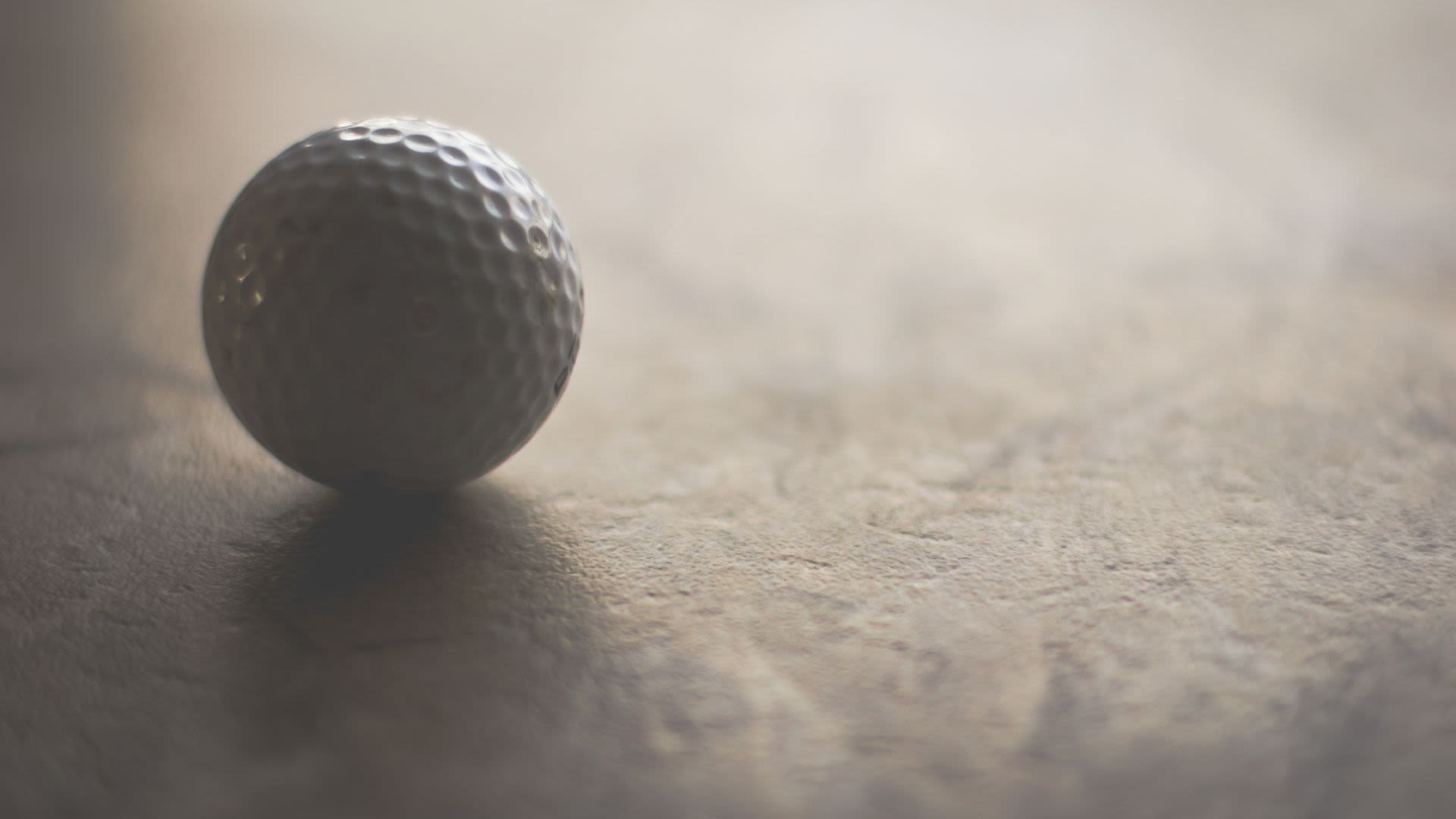 For almost every sport and leisure interest, attracting new participants and supporters is the lifeblood of their existence.
Staying relevant and innovating in order to not only maintain participation levels but increase them by tapping into new areas of the population takes time, effort and resources.
In 2022, love.golf and the Muslim Golf Association discovered a significant new community.
More than 1,200 Muslim women across the UK signed up for a first taste of golf, taking part in events from Surrey to Scotland. The events created a safe space for these women, helping to change perceptions and lead to a profound effect on individuals who previously had never imagined they belonged on a golf course.
In this feature, we'll hear from the passionate people who brought this partnership to life, why it was formed and the forward-thinking clubs that have benefitted from hosting the sessions.
But first, how did this association come about?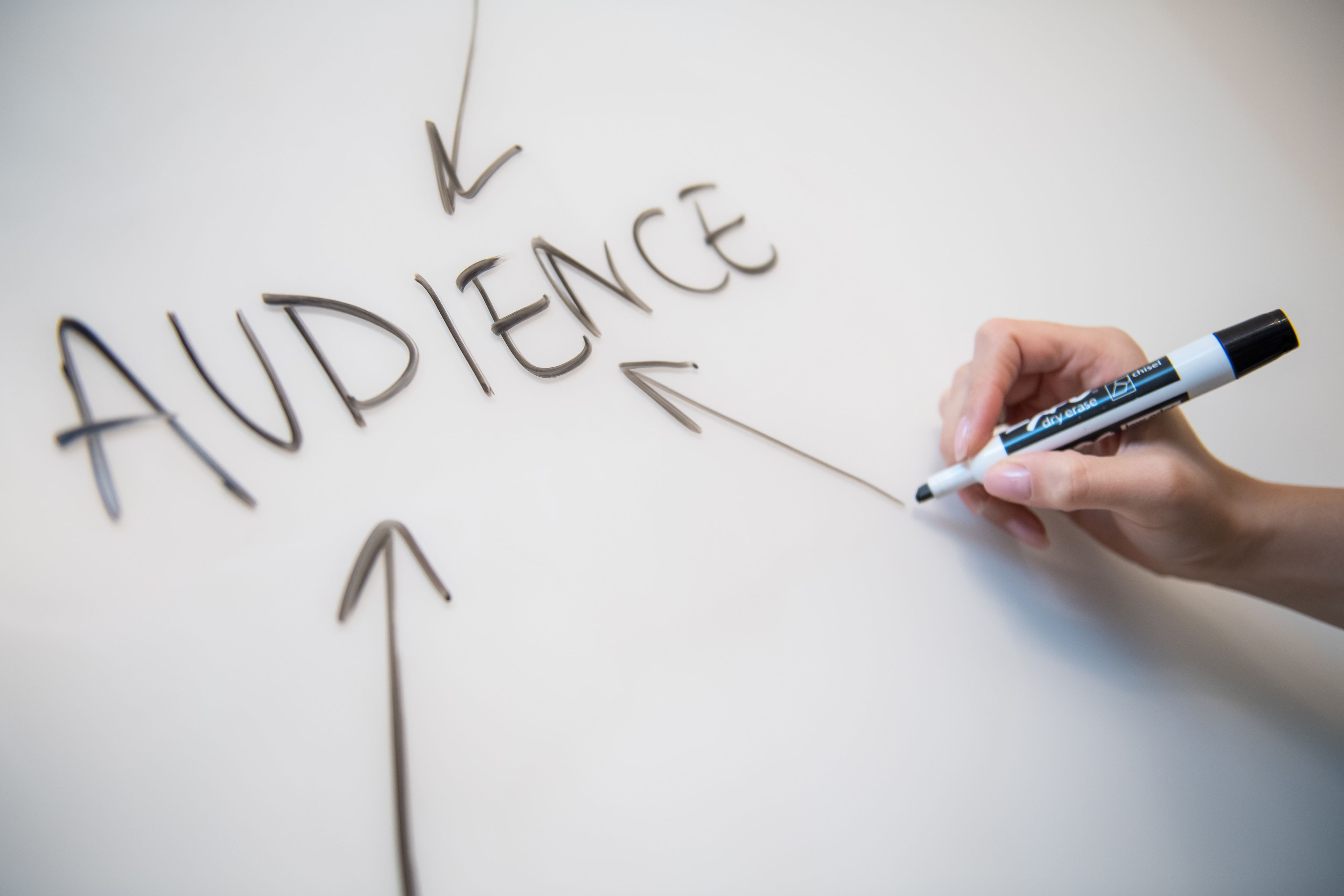 "In 2016, Syngenta published a landmark report about the opportunity to grow women's golf. It told us there was a $35 billion opportunity for golf to include more women in the game."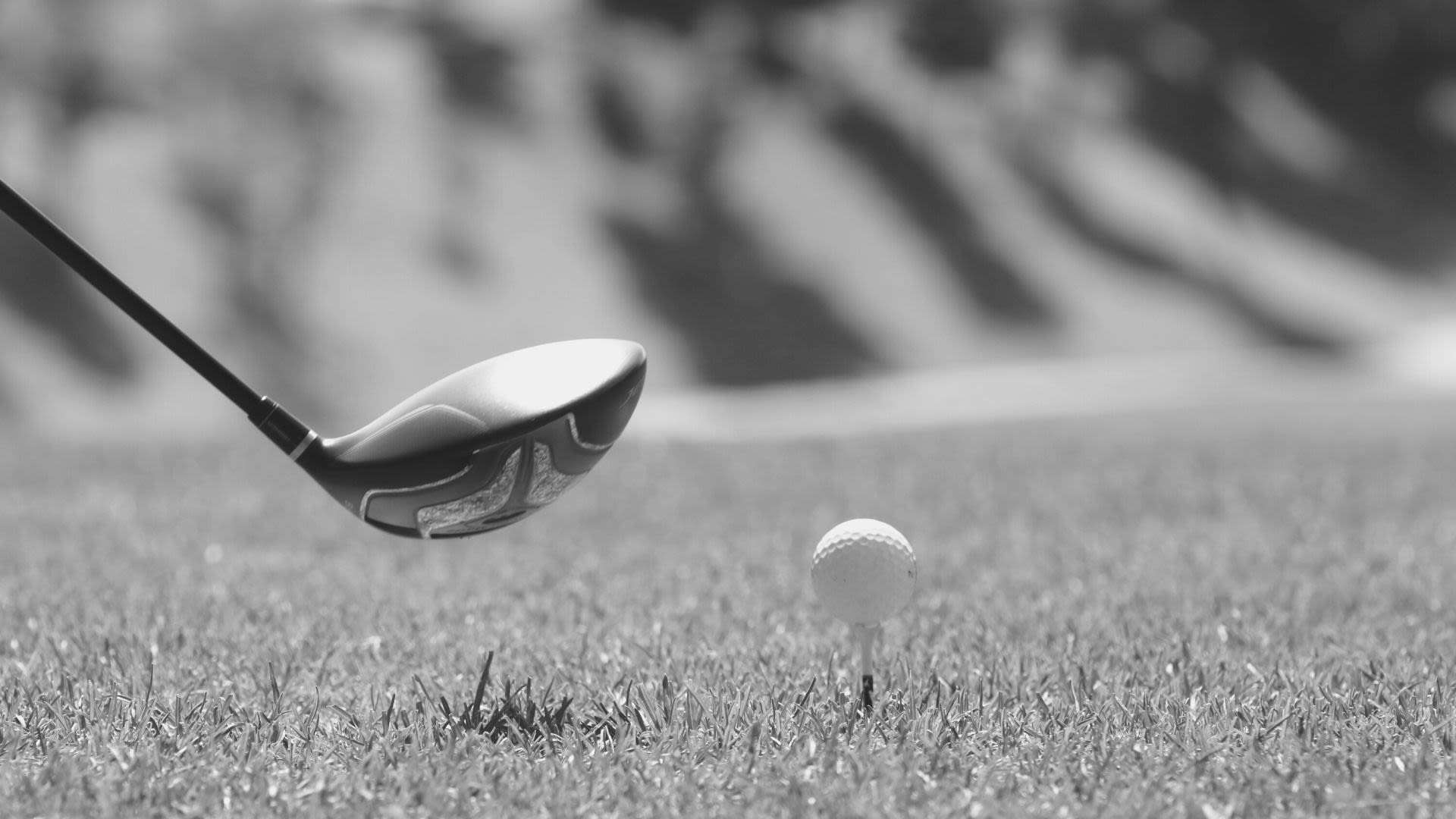 Why The Muslim Golf Association?
While Syngenta was carrying out that research, in the suburbs of London a man named Amir Malik was falling in love with golf.
Buoyed by the way golf had brought him and his friends closer together, but puzzled as to why more people of his faith didn't play the game, Amir set about finding other British Muslims to share his new passion.
He started the Muslim Golf Association (MGA), hosted a successful charity event at The Grove that sold out in 24 hours, then began to wonder if a similar interest existed among Muslim women as well as men.
Once Amir met love.golf Head Coach & Founder, Alastair Spink, they soon uncovered a staggering interest when a jointly hosted pilot experience in Birmingham sold out three times over in 2021.
Both men were taken aback, but perhaps it wasn't so surprising given the scope of opportunity in the Muslim population. There are 1.9 billion Muslims in the world, spending about US$2 trillion a year on food, pharmaceutical, cosmetics, fashion, travel, media and recreation, but fewer than 1% identify as a golfer.
In the UK, Sport England figures indicate only about 0.6% of the 8 million people from BAME backgrounds play golf regularly. And despite golf's boom in popularity since the pandemic, only 5% of newcomers are non-white.
Diversity in the sport clearly remains an issue, but the achievements of love.golf and the MGA in 2022 show there is huge opportunity to change that.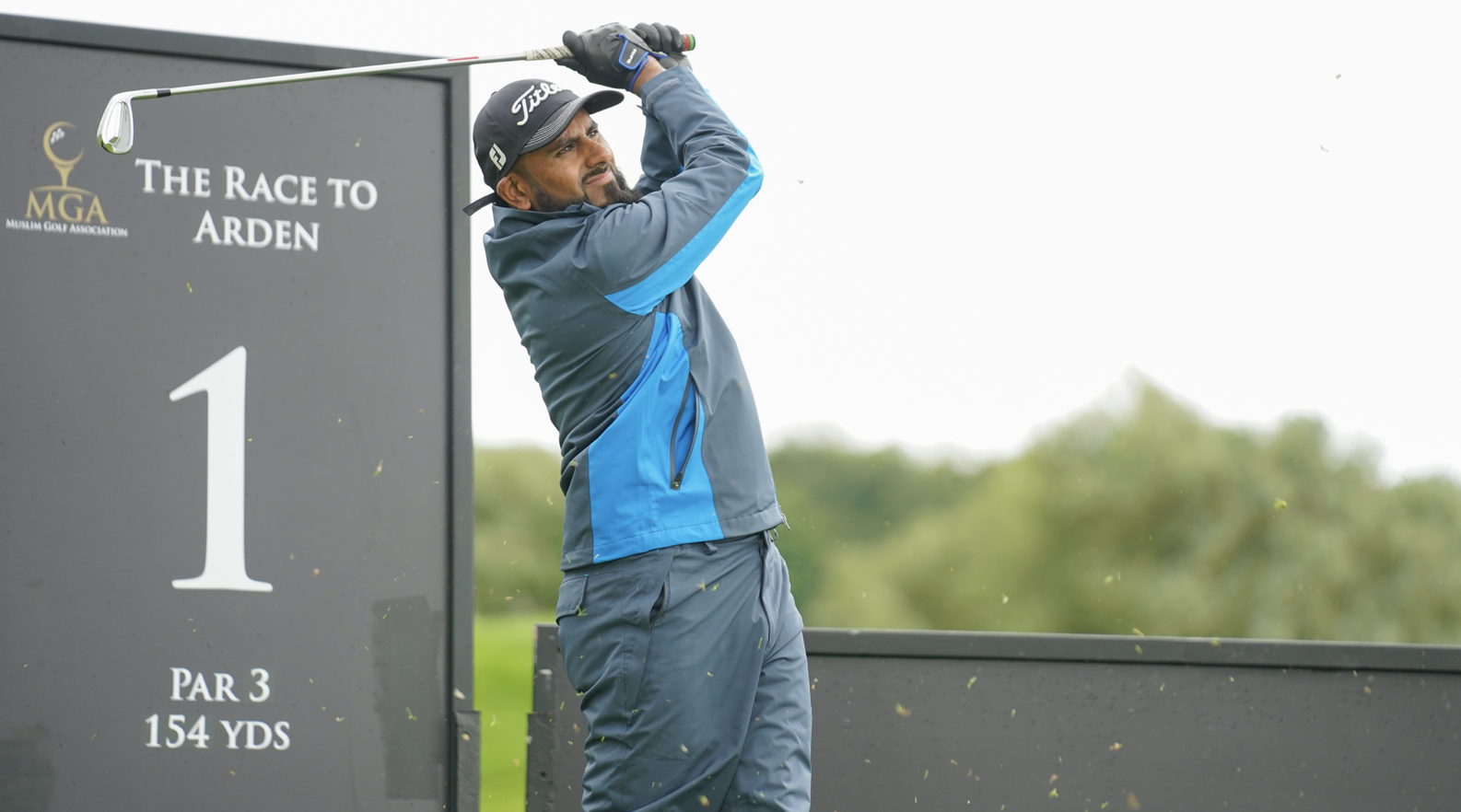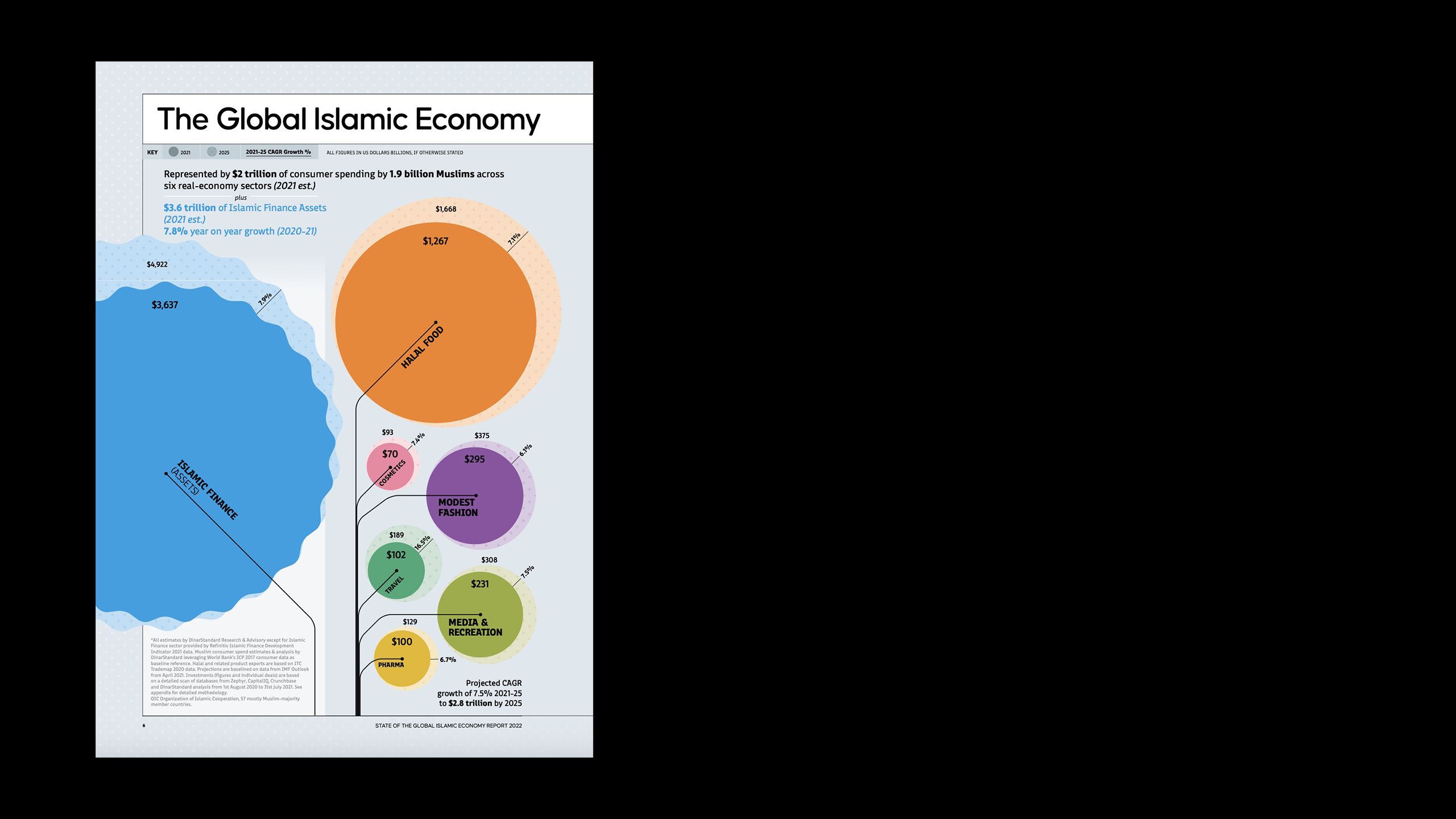 Changing Perceptions
The love.golf brand aims to deliver meaningful golfing experiences to any individual or community anywhere.
Love.golf was created in 2016 as a collaboration between Syngenta and Alastair Spink with the intent of delivering a new kind of golf experience to underserved customers, breaking away from traditional models, informed by a research and development mindset and guided by customer insight and data.
Founded on insights from Alastair's coaching experiences and Syngenta's unique market research, love.golf has showcased how to address the latent demand for golf in new customer segments and communities.
The emphasis is firmly on learning in a fun and positive environment with no judgements or dress codes.
It has proved the perfect fit for the MGA.
"When I came across Alastair and love.golf and heard their methodology, their vision and their approach to teaching, especially to women, I thought if we took that concept and product to the Muslim community we could create some magic, and that's exactly what's happened."
Watch:
Many of the participants across the sessions said love.golf and the MGA had completely transformed their perception of golf, and for some the effect was even life-changing.
Lina Fazlani, an NHS employee who came straight from a night shift to take part in a taster experience at Stonebridge Golf Club in Coventry, said: "I couldn't miss this! I'll go home and sleep afterwards.
"I hear my colleagues talking about playing golf in their spare time and always think it would be a really nice sport to play, but I've never had the opportunity.
"I like the fact that it's exercise, it's social, it doesn't involve food and it's outside. I was surprised at how much I improved and gained in confidence by the end of the session."
Hana Baig said of the session at Wanstead Golf Club in October 2022: "I've only watched golf a couple of times on TV and I'd never really seen myself playing it, but after really enjoying today I can see myself doing it in the future as a leisure activity with friends.
"I really liked being outdoors and it's a sport that's not too physical but you still get a bit of exercise in, enjoy the weather and have a chat with friends. It's not too intense."
Shaheen Akram said of the same event: "If I'm being really honest, I thought it would be quite boring. Actually, it's been brilliant.
"You get a workout, you meet good people and you're learning something new. It's been a lovely Sunday afternoon."
"We've got to get more men and women into sport but women in particular, so I'd say find a place like this and give it a go – it's really good fun."
Watch: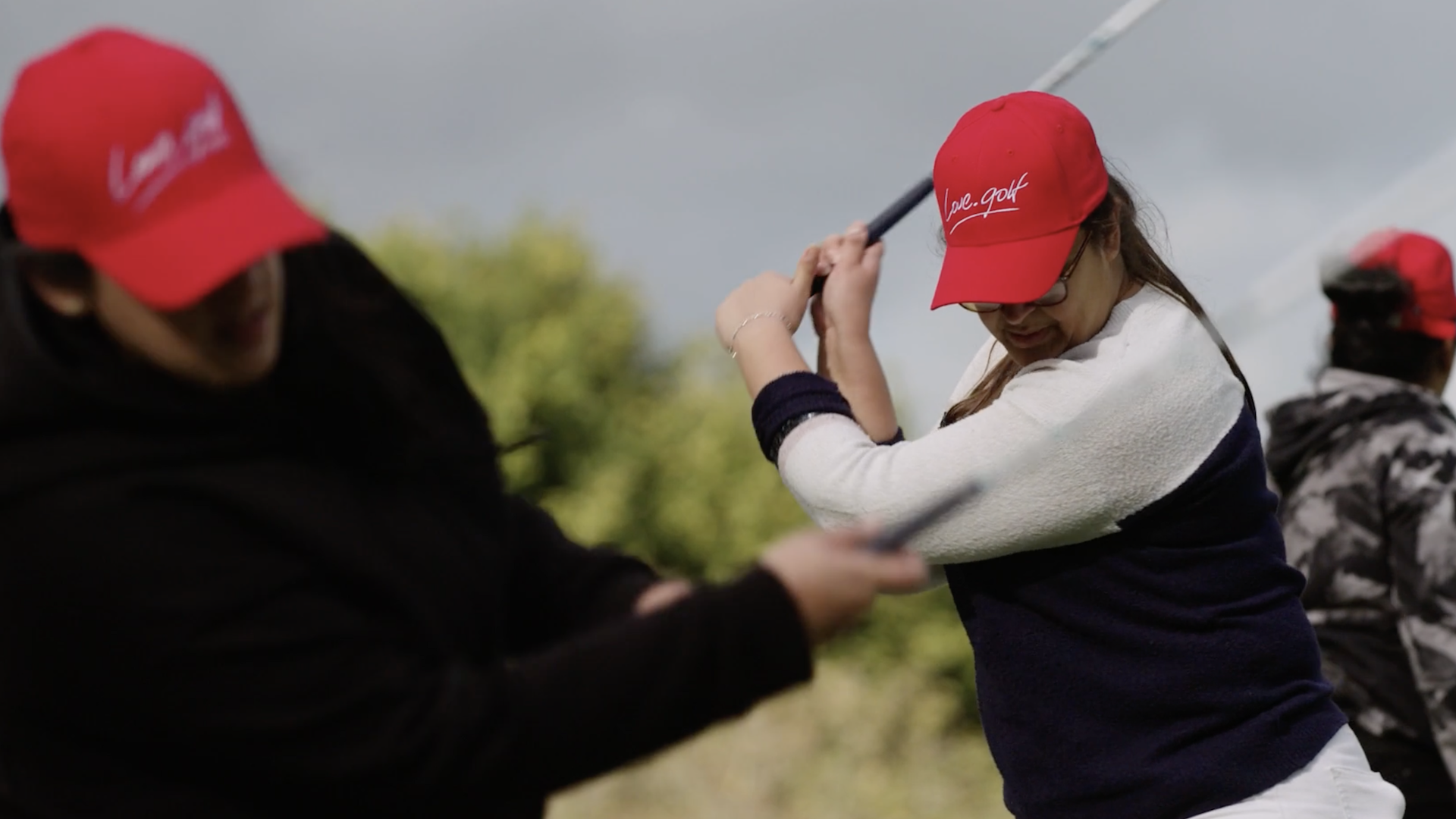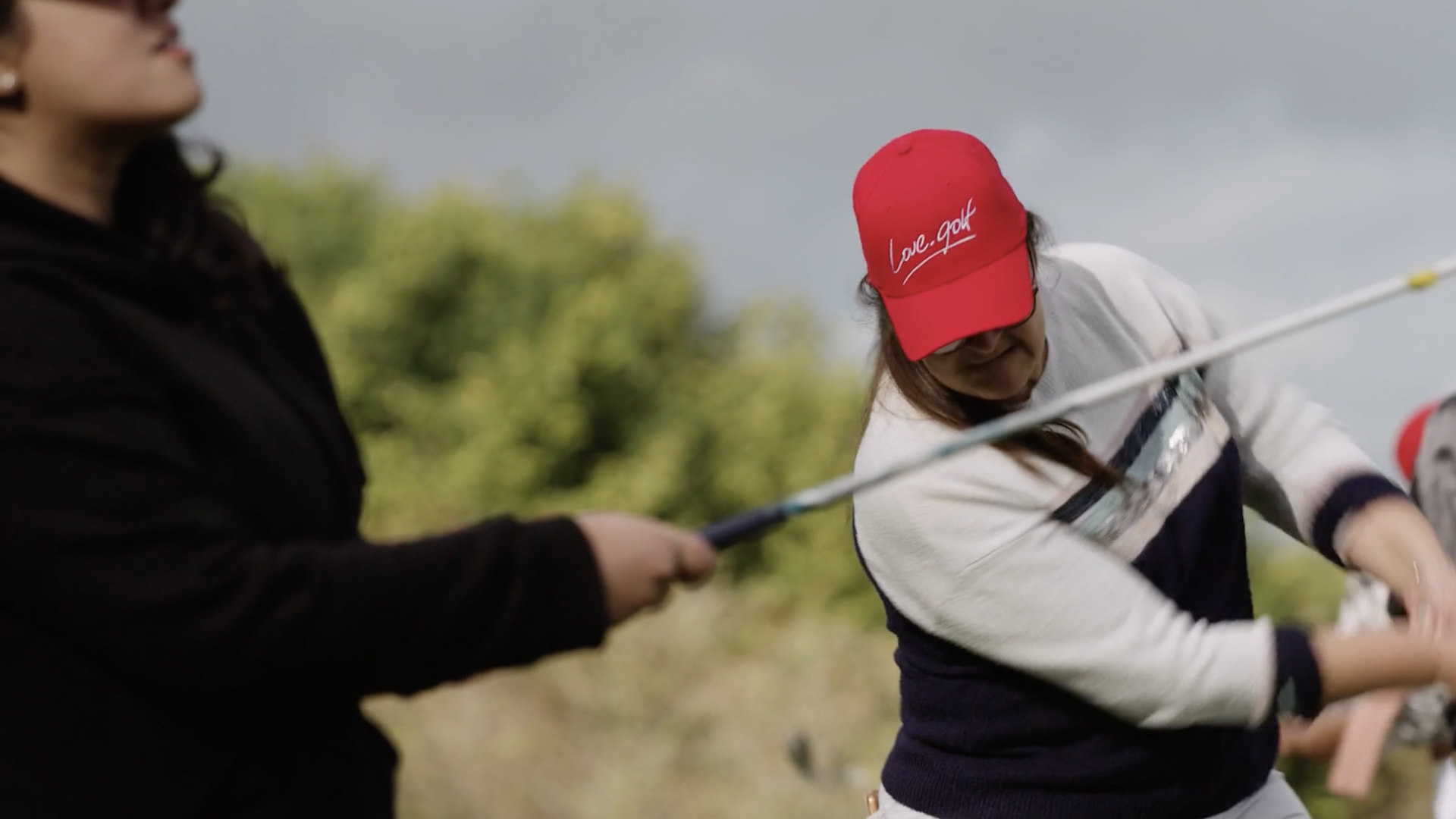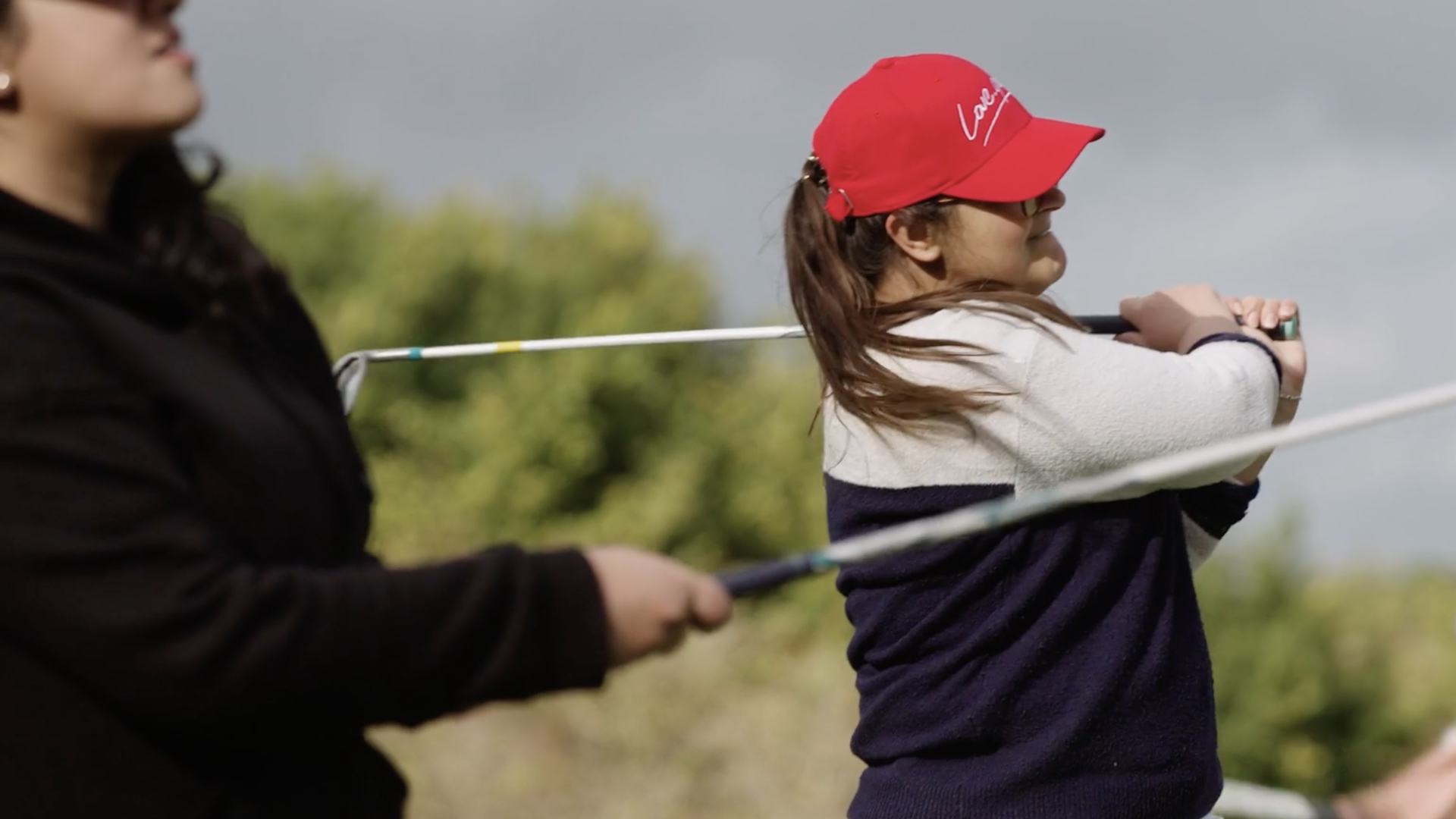 "We are venturing into a new culture and a new audience that for many of us, especially our coaches, is a step into the unknown."
Alastair Spink, Founder, love.golf
Listening and Learning
One of the most significant factors in the success of the partnership is a focus on feedback from the MGA and the women participating, an open dialogue that ensures the sessions are fine-tuned to suit specific needs.
"We are venturing into a new culture and a new audience that for many of us, especially our coaches, is a step into the unknown," says Alastair Spink.
"We can't assume that we know what's best. We've listened to and are directed by the customers with every experience. We need to understand this new audience."
At each session there is a dedicated area in the clubhouse that can be used to pray, and there are no rules or expectations on dress code.
The partnership has also provided a wonderful learning opportunity for love.golf coaches.
Ellie Robinson, who led the taster experience at Leeds Golf Centre, explains: "I've always strived to be a coach who welcomes anyone into golf, so to see all these women who never thought it would be for them come and have so much fun is amazing.
"It's been a brilliant opportunity for me to step out of my comfort zone, and I'm quickly learning how to make the sessions as enjoyable as possible for these particular groups of women."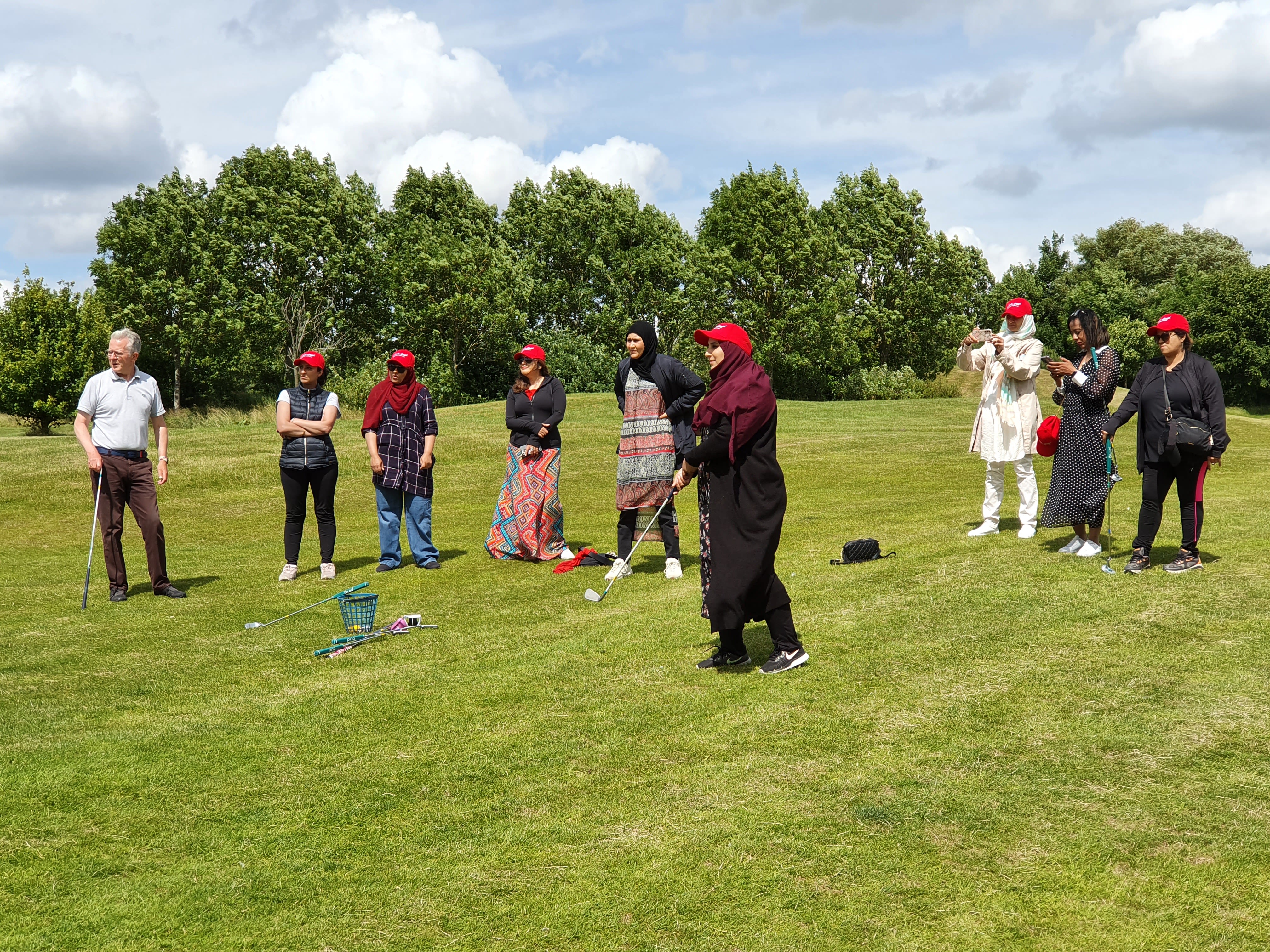 Striving for Diversity: Leeds Golf Centre
Leeds Golf Centre – England Golf's Club of the Year in 2018 – recognises that embracing diversity is not only the right thing to do, it is good for business.
Keen to shed the image of being a sport solely for white, middle-aged males, the venue describes itself as "a different breed of golf centre" and is as progressive with its facilities as it is with its accessibility.
As well as two 18-hole golf courses, it has an indoor computerised simulator, a putt and balance lab and footgolf through both membership and pay-and-play options.
In July 2022 it welcomed 40 Muslim women to a taster session led by love.golf coaches Ellie Robinson and Linzi Dye.
Watch: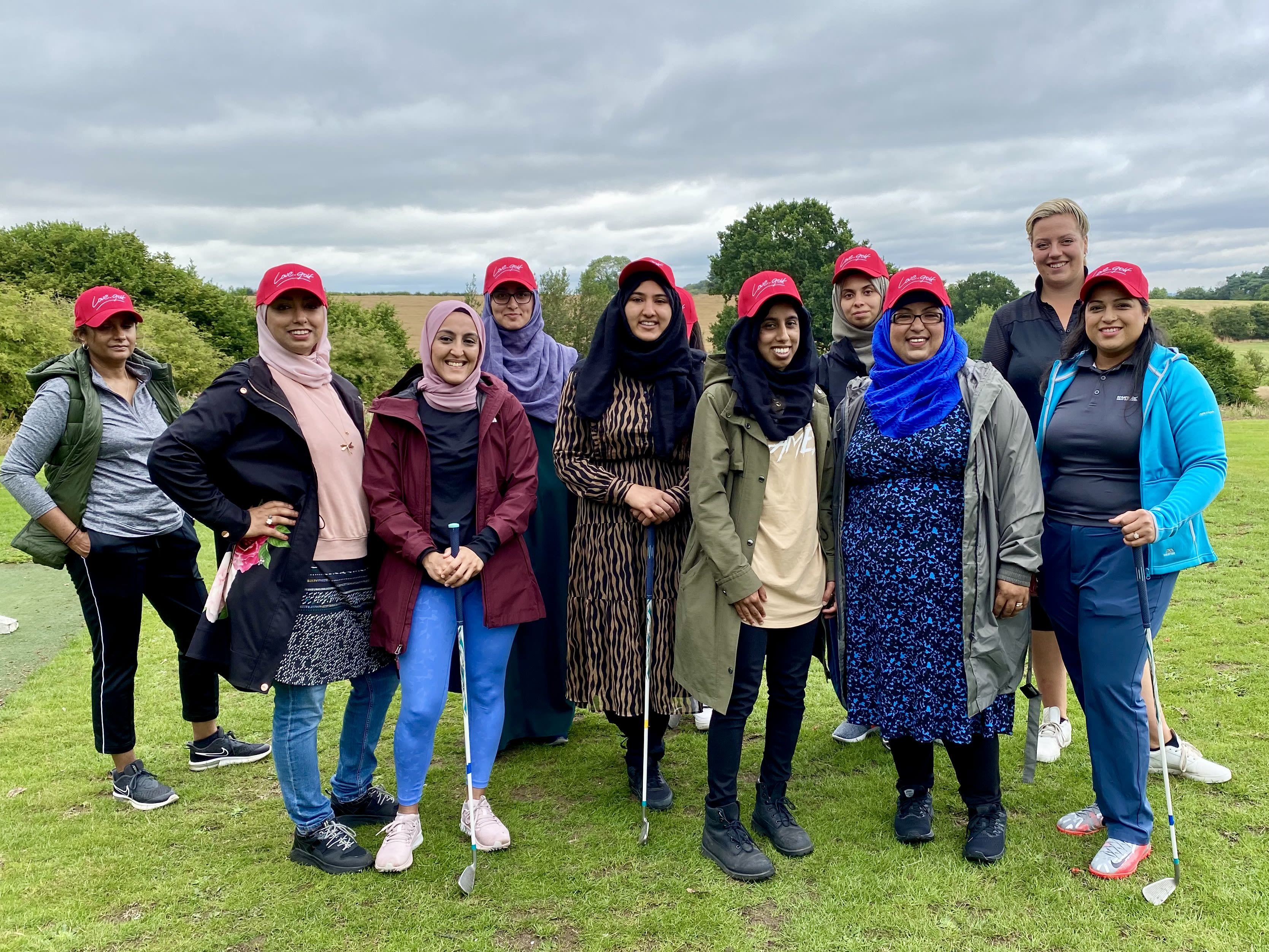 How To Recruit 1,000 Women To Golf
Attracting 1,200 new people from all walks of life to one sport is a good effort. To do it from a demographic that makes up around 3% of the UK population is seriously impressive.
By his own admission, Amir Malik was amazed by the level of demand for the first pilot sessions in partnership with love.golf, but, on reflection, wonders what is so strange about women wanting to try a new sport.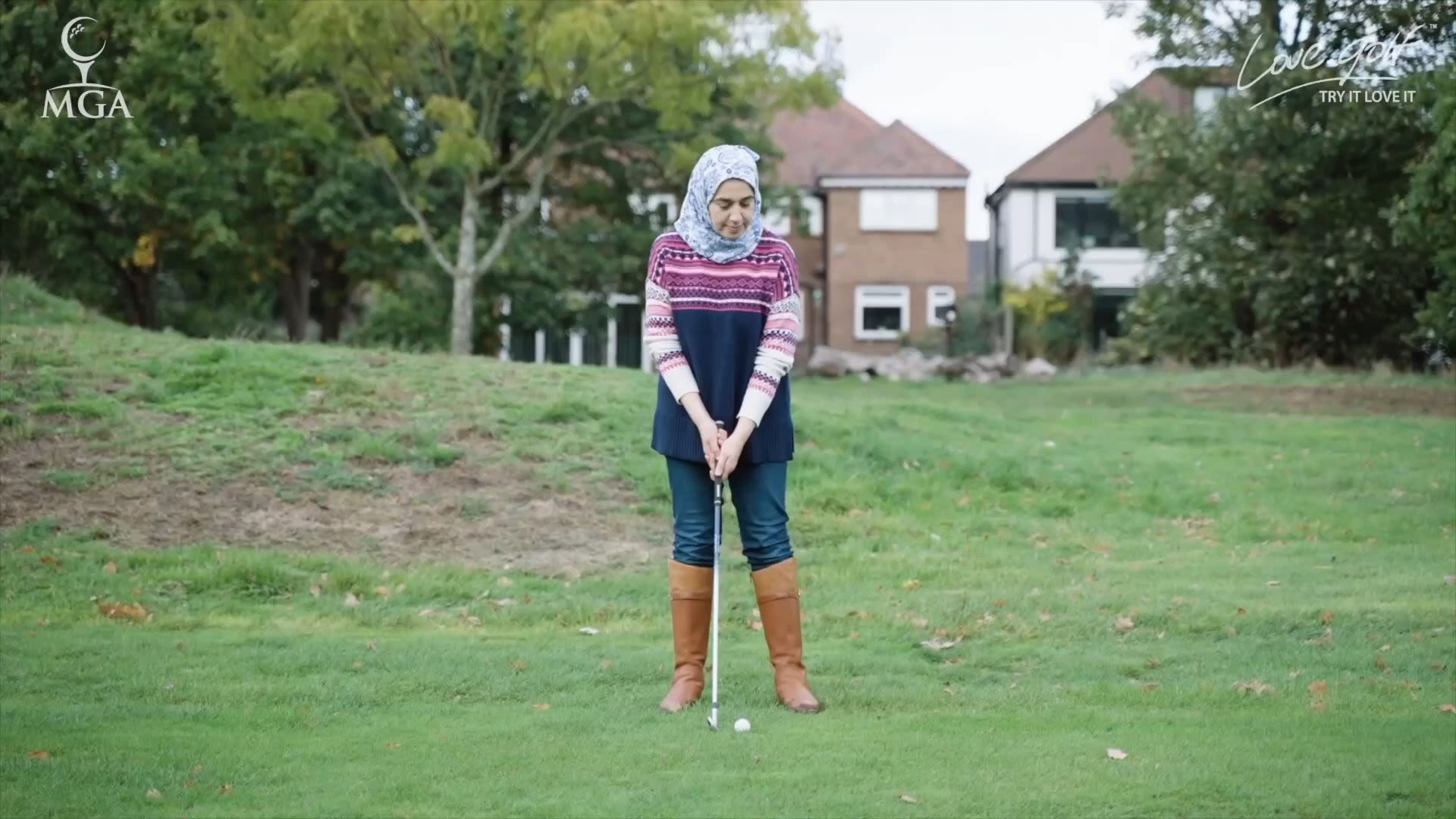 Video: Amir on how to recruit 1,000 women to golf
Inviting The Local Community In
Golf enjoyed a boom in popularity during the pandemic, with many clubs increasing their membership and revenues.
However, those same clubs now face a challenge to maintain that popularity post Covid, particularly with rising costs for both them and their members.
At Wanstead Golf Club in East London, which hosted the final love.golf / MGA taster experience of 2022 in October, General Manager Danielle Anderson believes being open and welcoming to all members of the community is essential in order to survive.
"Wanstead Golf Club is right in the heart of the Redbridge community, and it's very important for us that the community sees everything golf has to offer," she says.
"We're very keen to get more women playing golf and involved with everything that comes with the game, which is why we're doing these taster sessions and making golf as accessible as we can."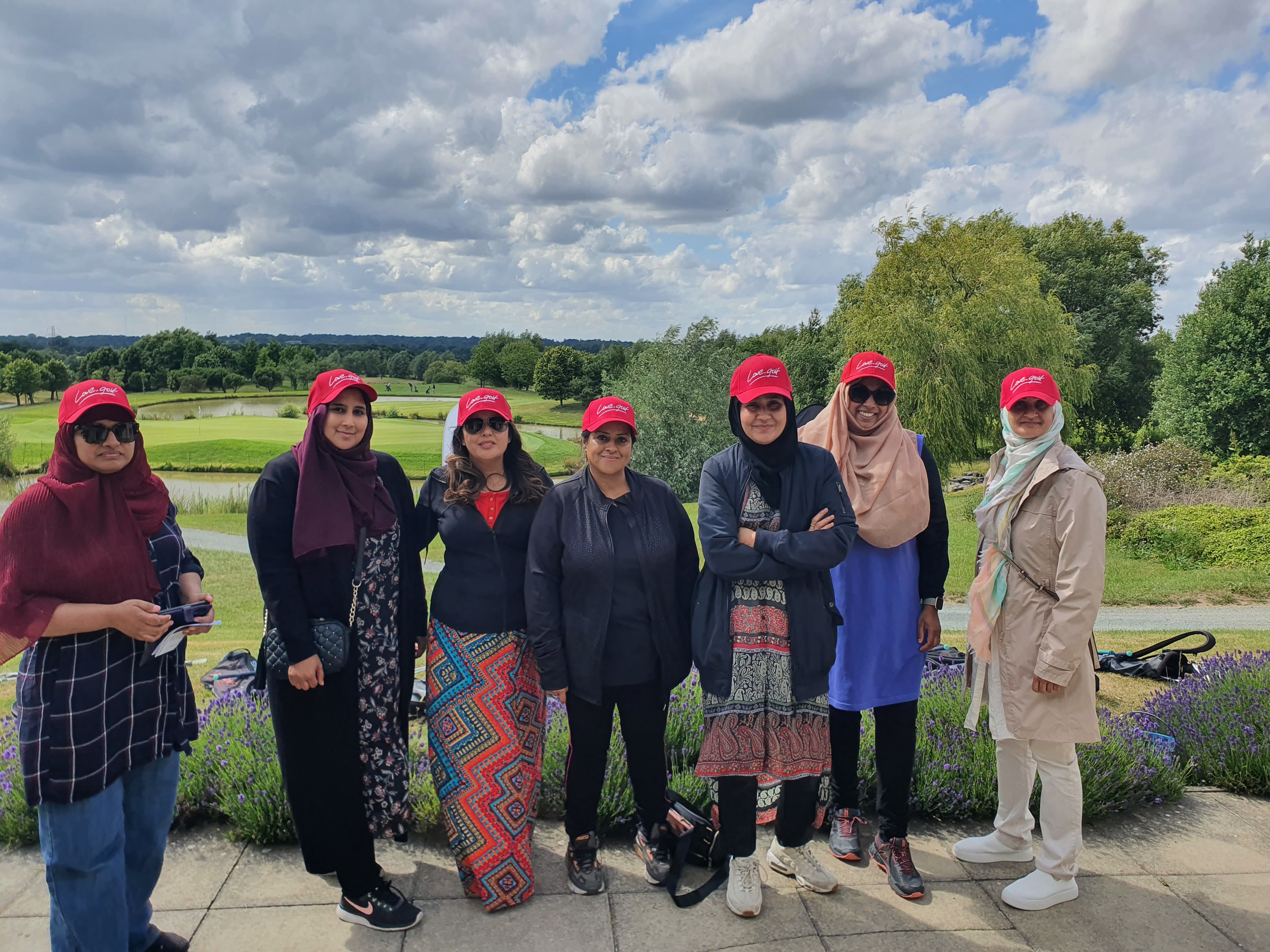 Looking Ahead
"The vision for the MGA is to introduce golf to every single Muslim man, woman and child."
Amir Malik's ambition is bold, but given the results of the market research conducted by Syngenta and the level of demand to the taster sessions in 2022, it makes absolute sense to aim high.
The MGA and love.golf partnership has already spread beyond the UK, with a further four events in Dubai at the end of 2022, and the opportunity to continue growing around the world is huge.
Mark Birchmore says: "2022 proved beyond doubt that there are underserved communities and customers who are interested in golf and willing to participate in the right experience if it is designed specifically for their needs.
"As good golf marketers, we need to put ourselves in to the shoes of the customer first and design meaningful experiences for them.
"Syngenta and our love.golf brand are really proud to be associated with this event as it shows golf can be more diverse and inclusive whilst putting more paying customers into the hands of clubs anywhere around the world.
"Golf can be representative of the communities within which it resides and we have seen some real leadership by the clubs and coaches involved in these events.
"More diverse businesses are more financially sustainable, and both Syngenta and the love.golf brand will continue to forge new relationships and offers to extend these experiences to new communities."
Where will the partnership be this time next year, and how many more Muslim women will have been introduced to golf? Watch this space…